Crispy Baked Sweet Potato Fries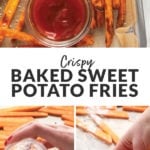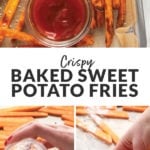 Have no fear, these sweet potato fries are perfectly crispy, baked, and ready in less than 30 minutes! Serve them with your favorite burger or eat them on their own as an healthy appetizer!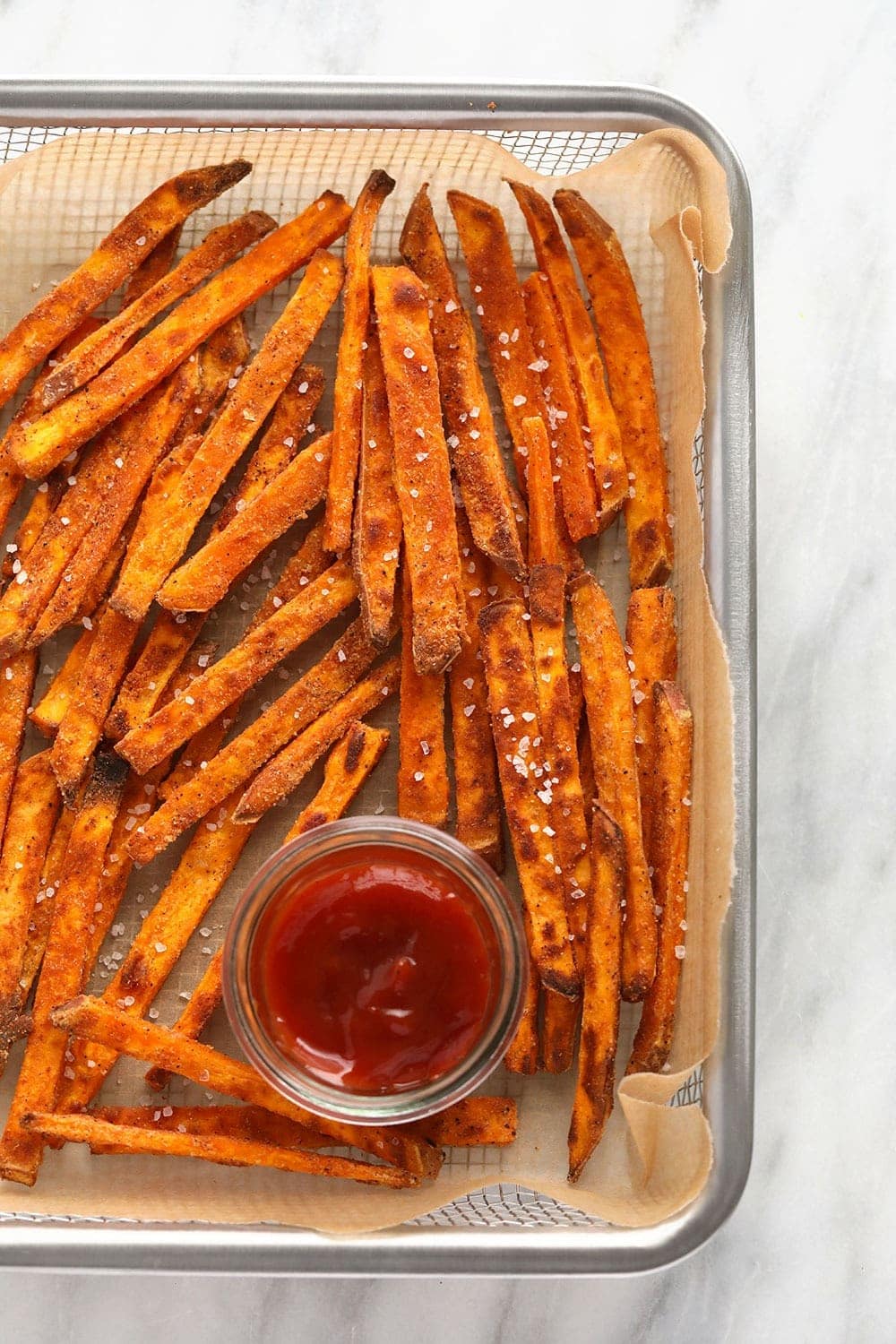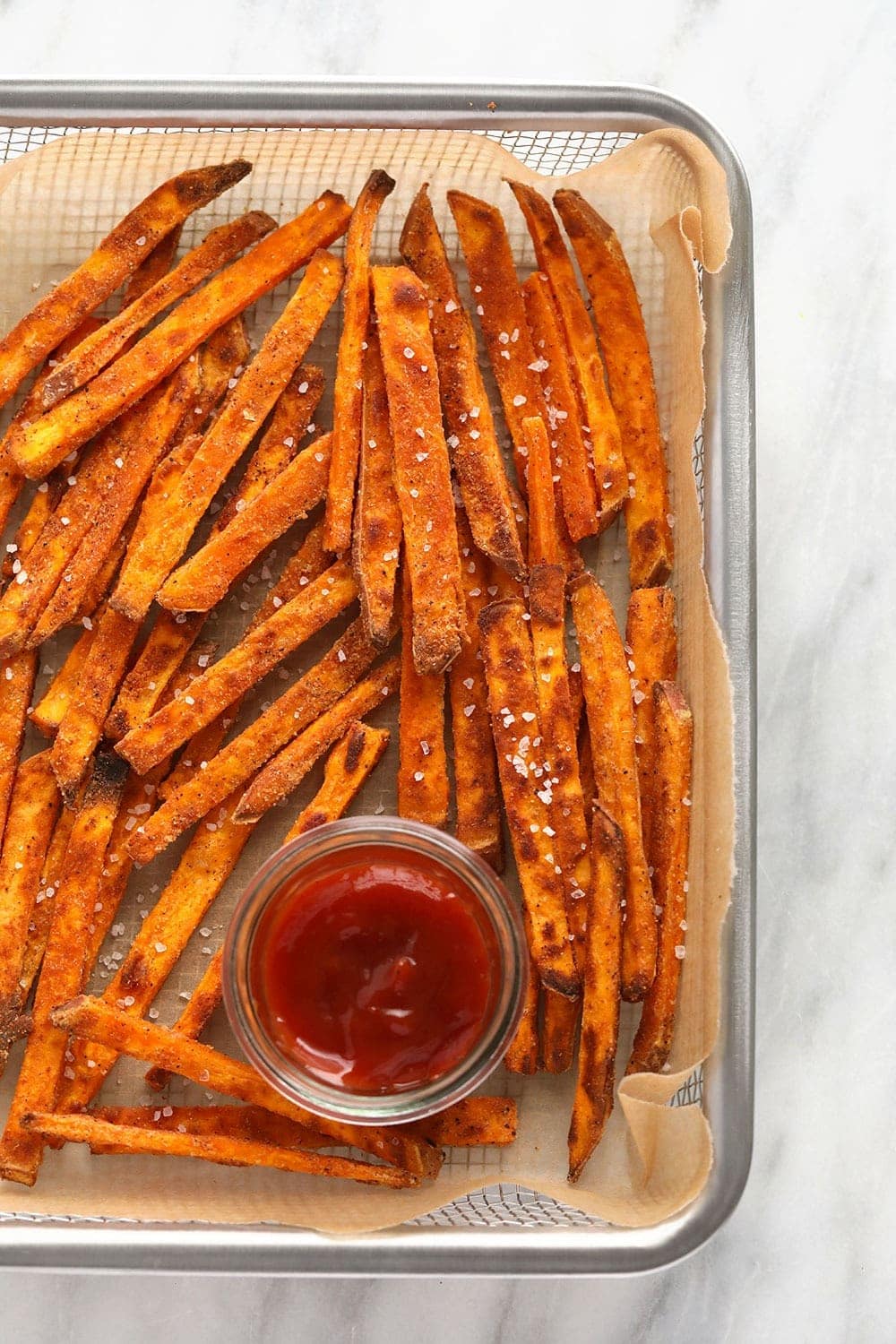 Sweet Potato Fries Go with Everything
We aren't shy around sweet potatoes! We have a wide variety of sweet potato recipes on FFF, but these sweet potato fries may take the prize for our favorite sweet potato recipe!
Say hello to the crispiest sweet potato fries, ever!
You don't have to go out to eat to enjoy a basket of sweet potato fries. You can pop a pan of sweet potato fries into the oven (yes, these fries are baked) and have golden brown sweet potato fries in less than 30 minutes.
Sweet potato fries make a great side dish, a fun appetizer at a party, or even as the main dish for a lazy night at home. Get that cutting board out and start chopping!
The Secret to CRISPY Sweet Potato Fries
How did we get these sweet potato fries so crispy you ask? Though there are many tricks and tips out there, we used corn starch to crisp up our sweet potato fries! 
The cornstarch absorbs the moisture of the sweet potatoes and creates the most delicious crunchy outer layer on the sweet potato fries!
Here's a tip–> Don't skip the cornstarch! If you don't have cornstarch we recommend using tapioca flour.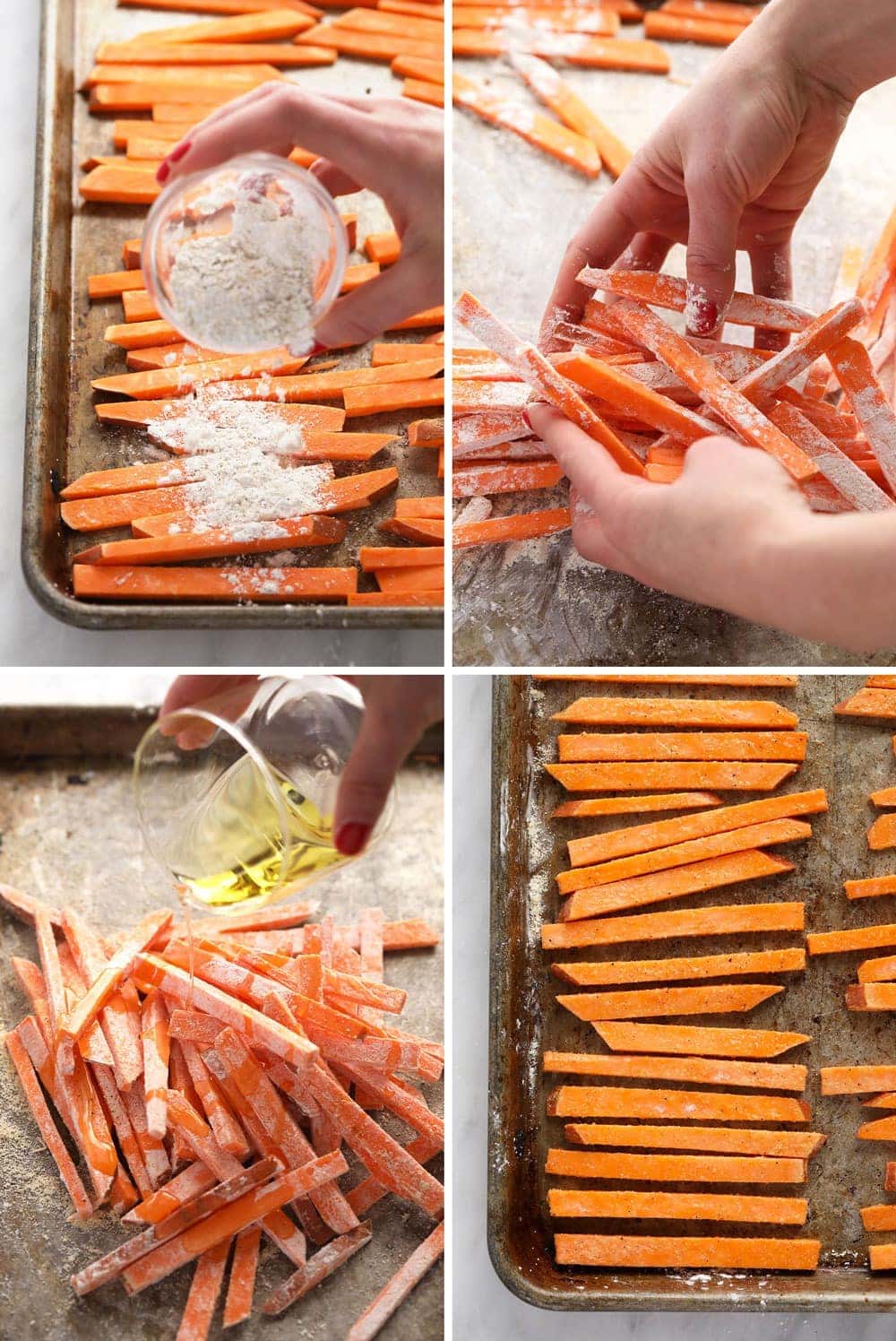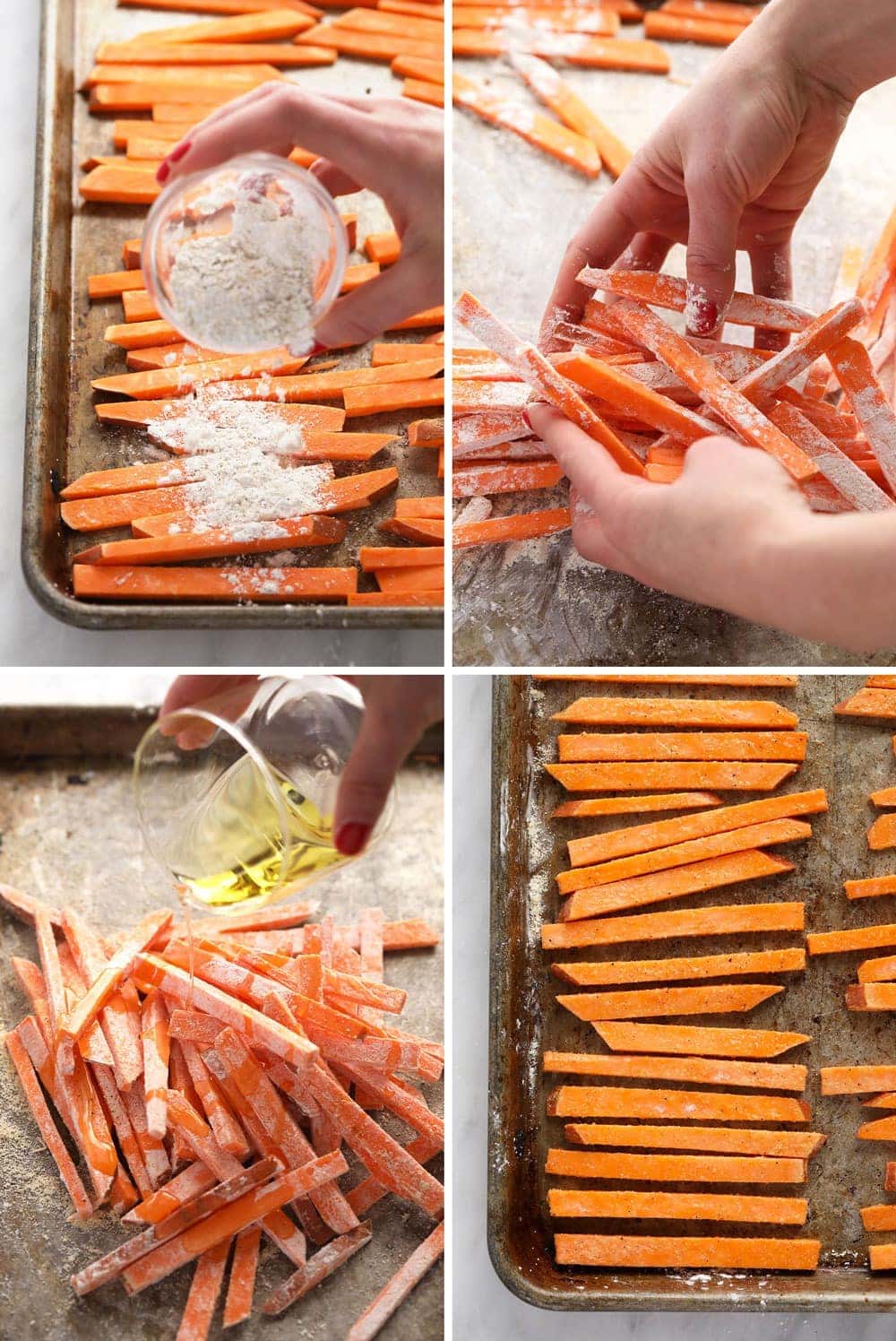 Tips + Tricks
How you cut the fries, matter.
There are so many different ways you can cut a sweet potato fry. Some people like wedges and some people like shoe string fries. We cut these fries into a traditional french fry cut that is 1/4 inch thick rectangle fries. 
No matter how you cut your fries, be sure to cut them all about the same size so that the bake time is the same for all the sweet potato fries.
Mix up the flavor.
We kept the seasoning for these crispy baked sweet potato fries simple with a teaspoon of garlic powder, salt and pepper. It is delicious!
If you would like to spice up your crispy baked sweet potato fries, try a couple of teaspoons of any of the homemade spice mixes below. Any of them would be delicious!
Add the corn starch before the oil.
Corn starch is the brains of this operation! You want the corn starch to be tossed with the sweet potatoes before the you toss them in oil. You want the corn starch and spices to be directly applied to the sweet potatoes!
If you toss in oil first, the corn starch tends to clump!
Bake at a high temperature. 

Bake these sweet potato fries at 425ºF. It's a high enough temperature to cook the sweet potato fries evenly through while perfectly crisping the outsides of the fries!
Remember this–> Every oven is different. That is why we recommend checking your baked sweet potato fries every 10 minutes until golden brown!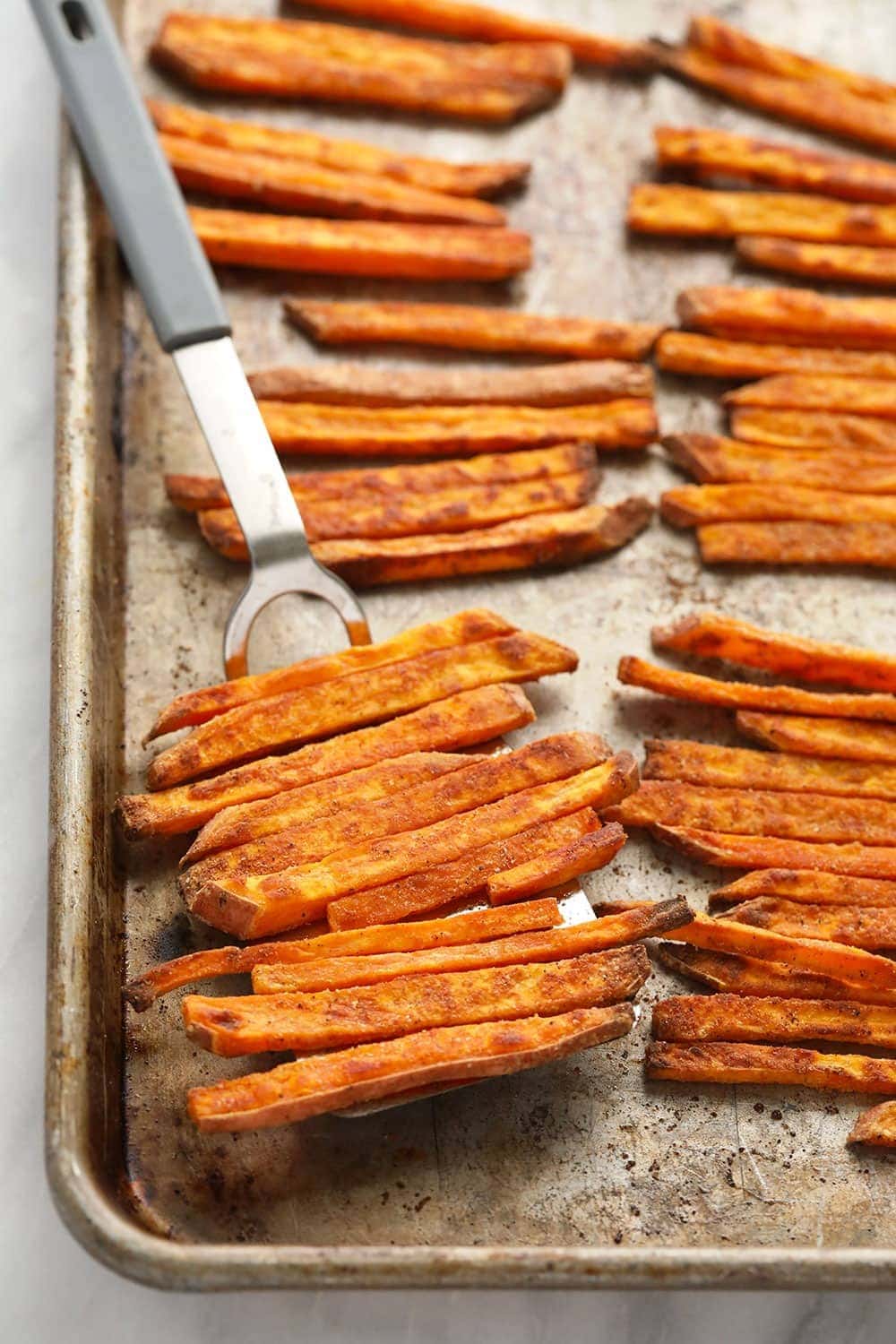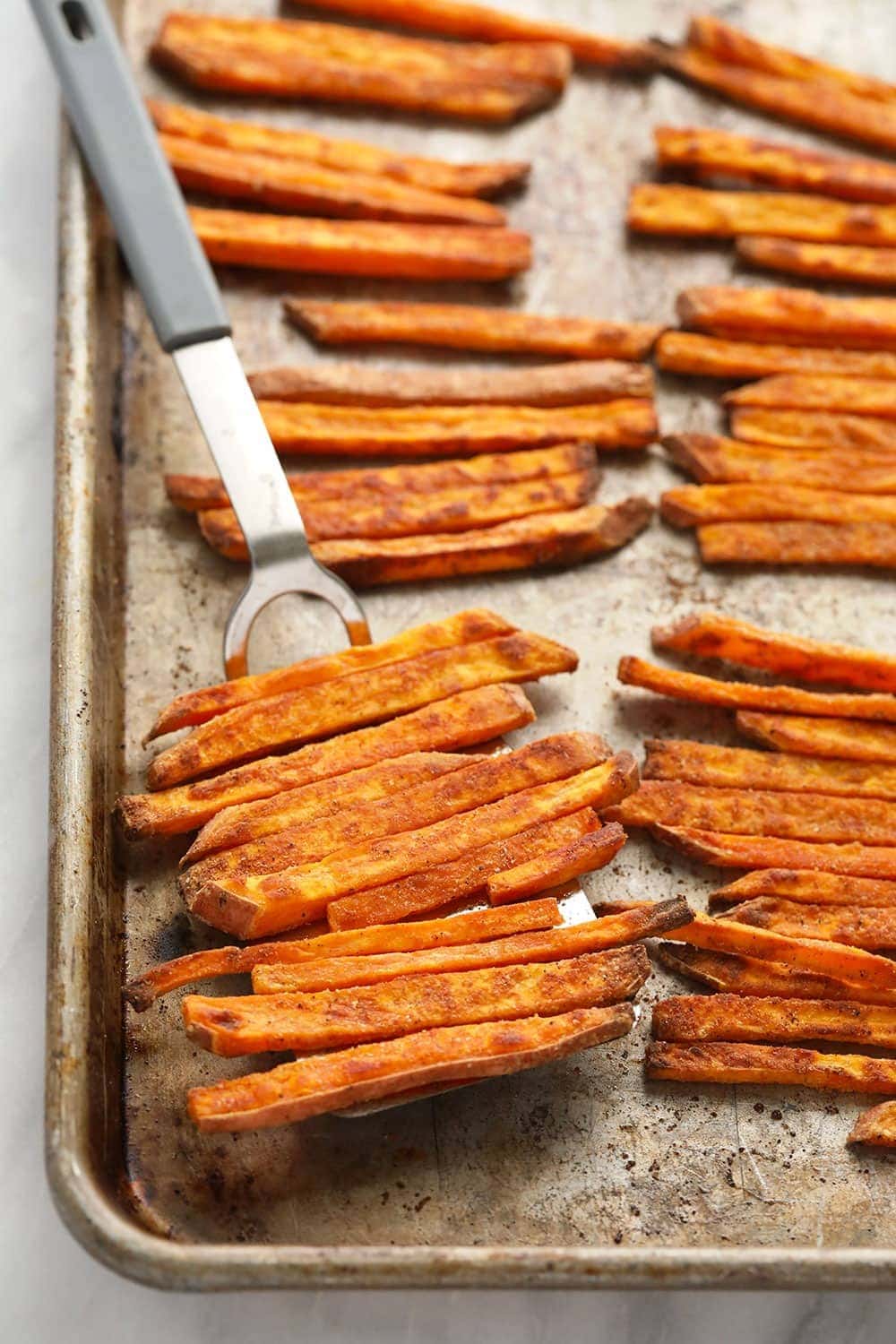 All the Questions
Are sweet potato fries healthier?
Sweet potatoes are a great source of fiber, antioxidants, and vitamin A! Also, the way you prepare sweet potato fries can determine whether they are a healthy option or not. Baking sweet potato fries rather than frying them is a healthier option!
What can you eat with sweet potato fries?
If you don't plan on making sweet potatoes your main dish (which is totally acceptable), there are many dishes that sweet potato fries compliment. We love serving sweet potato fries with the dishes below.
Can I use normal potatoes in this recipe?
Though we suggest using sweet potato fries in this recipe, you can use russet or Idaho potatoes if you're in a pinch!
How do you store sweet potato fries?
Sweet potato fries are best if you serve them immediately after baking! However, if you have any fries leftover they will last for 2-3 days in the refrigerator.
To reheat the fries, place them on a baking sheet, drizzle them in oil, and bake them at 425ºF until they become crispy again!
Can you freeze sweet potato fries?
We do not recommend freezing these sweet potato fries!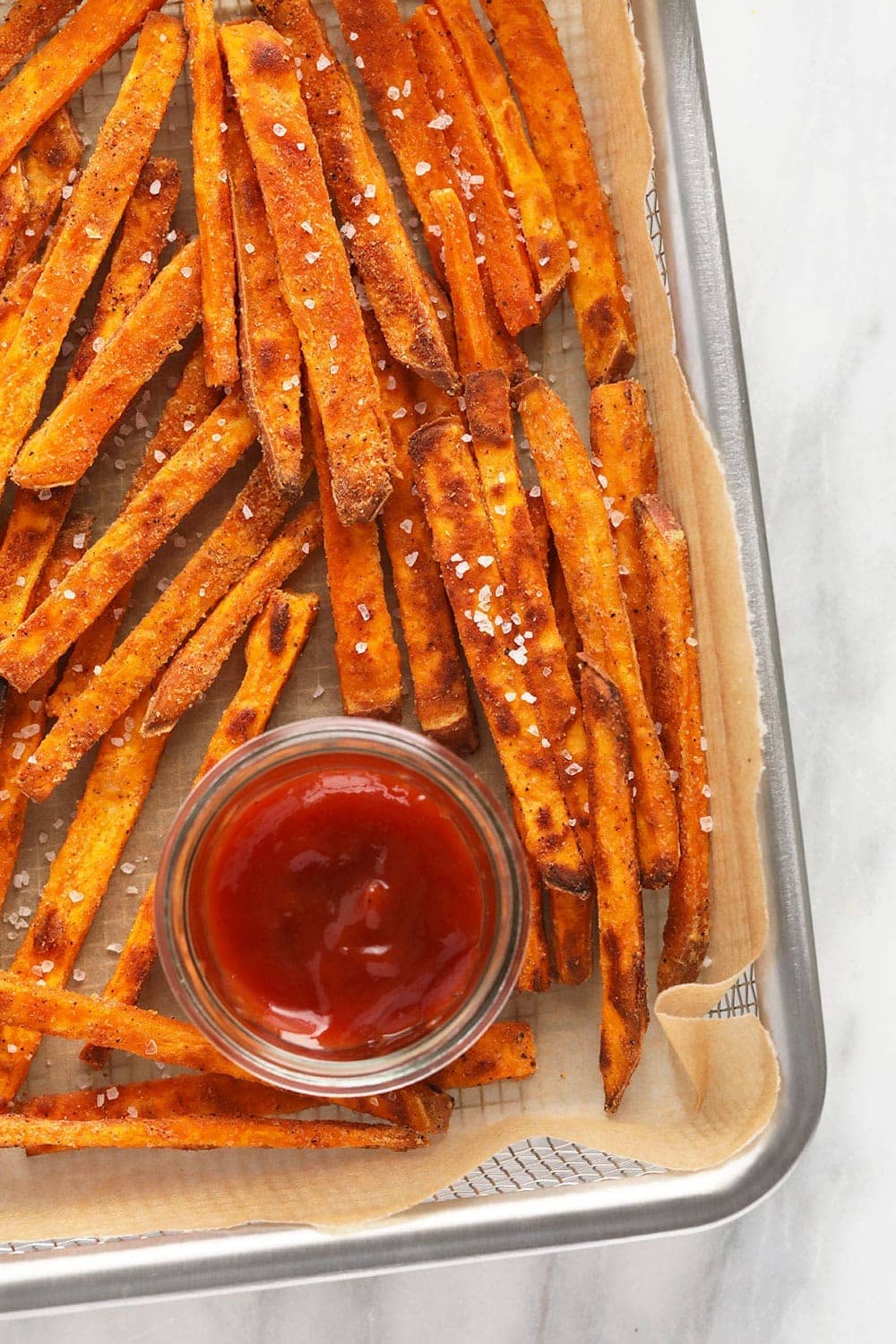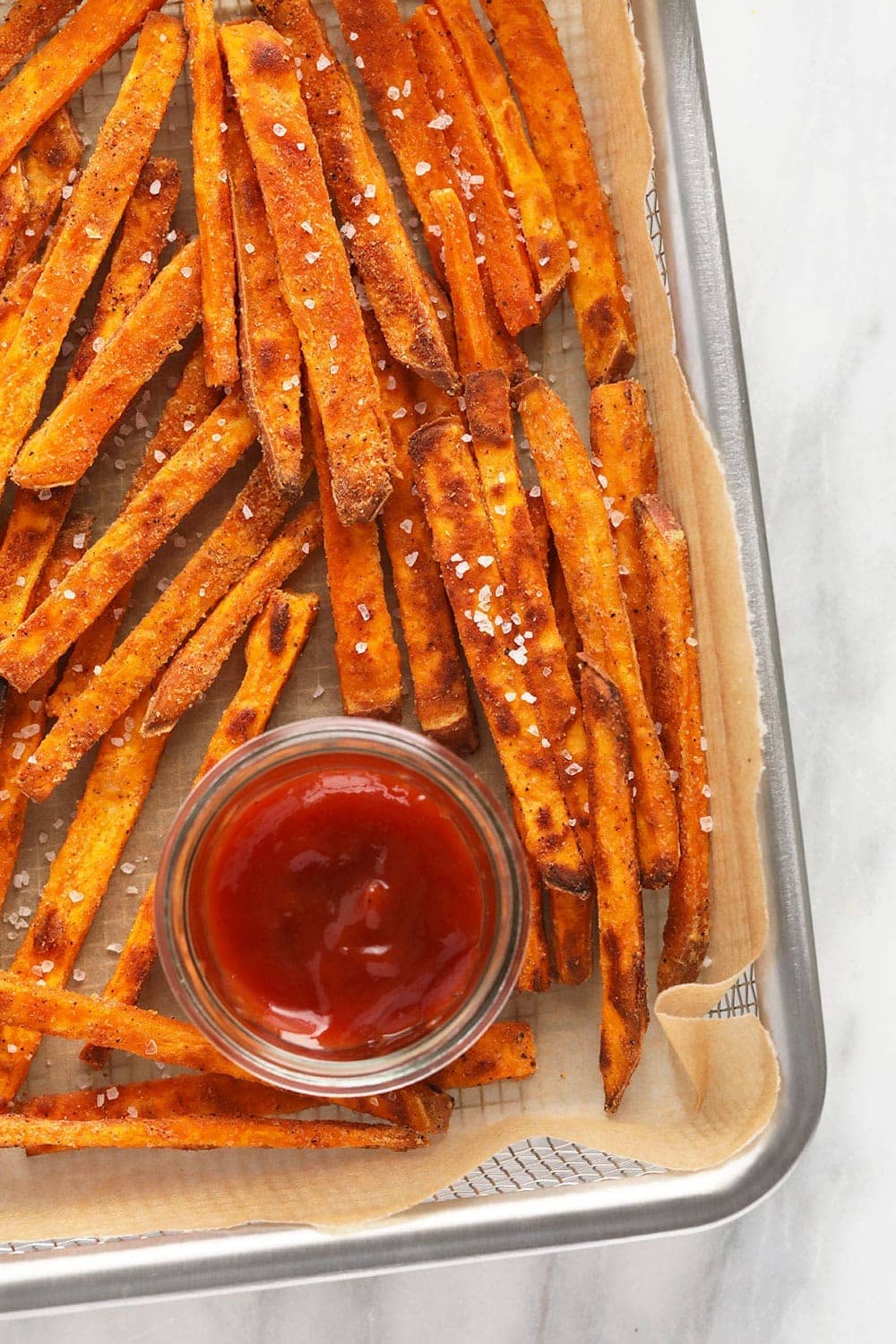 Sweet Potato Recipes
Recipe
Baked Sweet Potato Fries
Have no fear, these sweet potato fries are perfectly crispy, baked, and ready in less than 30 minutes! Serve them with your favorite burger or eat them on their own as a healthy appetizer!
Prep Time:

10 minutes

Cook Time:

22 minutes

Total Time:

32 minutes
Author: Lee Funke
Yield: 2–4 1x
Category: Side
Method: Oven
Cuisine: American
Ingredients
1

large sweet potato (cut into

1/8

–

1/4

inch fries)

1 tablespoon

cornstarch

1 teaspoon

garlic powder

1/8 teaspoon

salt

1/8 teaspoon

ground pepper

1.5 tablespoon

s olive oil
topping: coarse sea salt, to taste
Instructions
First, preheat oven to 425ºF and spray a standard-size baking sheet with nonstick cooking spray.
Next, prep sweet potato by slicing it into 1/4-inch fries. The key is to get all of your fries around the same thickness so that they cook evenly. Option here to peel sweet potato before you slice.
Place sweet potato fries on baking sheet. Then, mix together cornstarch, garlic powder, salt, and pepper. Sprinkle mixture onto the sweet potato fries and then toss to make sure everything is coated.
Drizzle on about 1.5 tablespoons of olive oil and toss again.
Then, spread sweet potato fries out evenly on the pan making sure they are not touching each other or overlapping. This part is important because it will allow each fry to get as crispy as possible!
Roast fries at 425ºF for 10 minutes. Then, remove from the oven and carefully flip and roast for another 10 minutes. Remove from oven again and flip one more time and roast for another 2-4 minutes.
Season fries with coarse sea salt and eat immediately with your favorite dipping sauce.
Nutrition
Serving Size:

1/4

Calories:

83

Sugar:

1

Fat:

5

Carbohydrates:

9

Fiber:

1

Protein:

1