DIY Cold-Brew Iced Coffee
Another cold brew coffee post? Really? To my credit this post was originally published in 2014 and was desperately in need of a picture refresh but also I'd like to consider myself an OG cold brew coffee drinker.
First of all, I love coffee. Nothing new here. But my stomach doesn't love coffee so much. Back when cold brew first came on the scene (I'm looking at you 2010-2012), my ears perked up when I heard that cold brew coffee is less acidic and can do wonders for anyone who is sensitive to the acidity of coffee. Hi! That's me! C and I were living in NYC at the time and luckily were living in a place where cold brew was becoming increasingly popular…and expensive. Our weekly grocery budget for 2 people was $50 (seriously!) and one meal out so there wasn't a whole lot of room for a $4-$5 cup of cold brew. I became determined to master cold brew. The only problem? All the tutorials online involved industrial sized containers and equipment a 21 year old broke post-grad definitely did not own. And so I took things into my own hands and that's how I mastered the perfect cold brew coffee process.
Today I'm walking you through the process step-by-step. Let's jump in…
What is Cold Brew Coffee?
The name pretty much says it all, but essentially cold brew coffee is coffee that is brewed using a cold water process rather than heating it up. Coffee grinds are left to soak in water for 12-24 hours to absorb the coffee benefits rather than having it released in boiling water. Why might one want to cold brew their coffee? For a couple of reasons:
1. It's less acidic – heading up the coffee beans releases more acidity, however when the beans are not heated that acidity is not released making it easier on your digestion.
2. It's stronger – this cold brew makes a concentrate so it's STRONG. You can dilute it or get a serious buzz. Up to you!
3. It's cold – DUH. The summer is hot – make sure your coffee is cold and why not get the benefits of cold brew instead of throwing that day old hot coffee in the fridge?
What do you need to make Cold Brew Coffee?
No industrial equipment required here. You'll need just a few jars or containers (mason jars work great!) and a few other items to make this cold brew coffee recipe.
-1-2 large jars (make sure they have a wide mouth which is easier for pouring)
-a nut milk bag or several pieces of cheesecloth
-At least 1 cup of quality, coarsely ground coffee beans
-a wooden spoon, for stirring
-filtered water
How Do You Make Cold Brew Coffee?
Let's get to the cold brew making process…
1. Measure out 1 cup of coarsely ground coffee beans. Make sure beans are coarsely ground (if getting from a coffee shop ask it to be ground for french press) as it will make it much easier to strain.
2. In a large jar or jug combine the coffee grounds and water. Stir and then cover and let sit in the refrigerator for at least 12 hours (or longer if you plan ahead!).
3. After it's "brewed" for at least 12 hours, remove from the refrigerator and strain through two layers of cheese cloth or a nut milk bag into a large bowl or jug.
4. Add several ice cubes to a glass, add pour cold brew over ice.
5. Add in any other ingredients such as milk, sugar or add-ins listed below.
Cold-Brew Add-Ins
Cold brew coffee is strong. Definitely stronger than regular coffee. I usually drink mine with a bit of milk. Here are some suggestions of what to add:
1. Homemade Almond Milk – always a classic!
2. Homemade Oat Milk – Haven't tried oat milk? Now's your chance. It's easy to make and tastes great with coffee.
3. Add a splash of cold brew to this Iced Golden Milk Latte
4. Spice things up a notch with this Iced Horchata Latte
What to do with Leftover Coffee Grinds
Don't let those coffee grinds go to waste! Here are a few ideas of what to do with them:
– Try making this DIY Vanilla Latte Soap
– DIY this coffee, face and body scrub
– Add to your garden! Note – only add to acid loving plants like Azeleas and Blueberries
DIY Cold-Brew Iced Coffee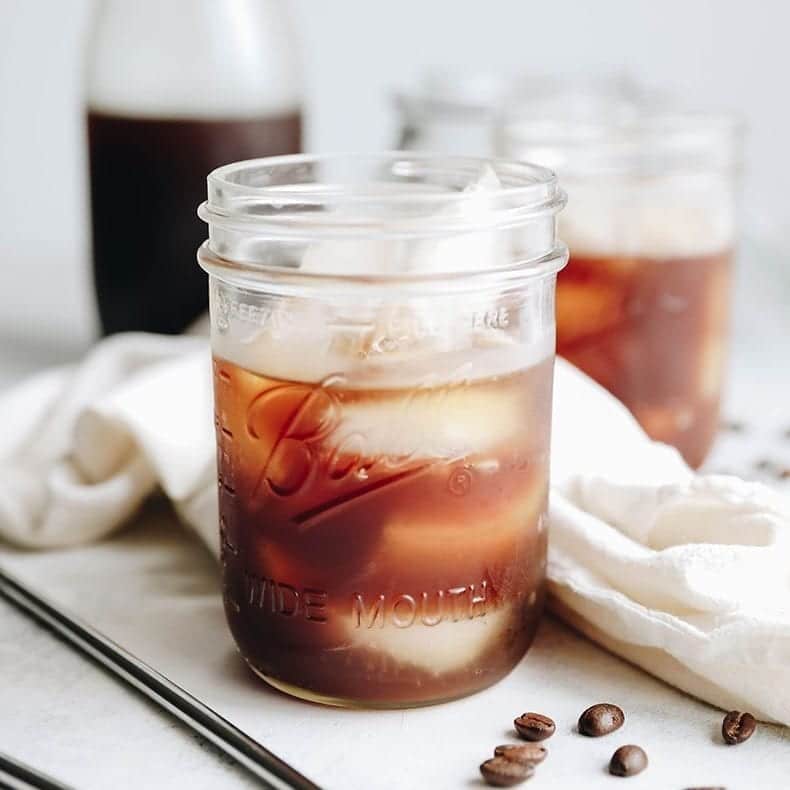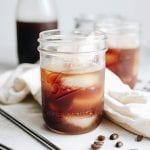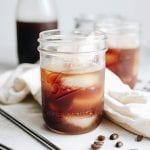 Prep Time:

2 minutes

Total Time:

12 hours

Yield:

5 cup

s

1

x

Scale

Ingredients
1 cup

good quality ground coffee beans

5 cup

s water
Ice cubes (I freeze leftover coffee in an ice cube tray)
optional: milk, sugar, spices
supplies: large jug or jar, cheesecloth or a nut-milk bag, wooden spoon
Instructions
In a large jar or jug combine coffee grounds and water.
Cover and let sit for at least 12 hours (or longer) in the refrigerator.
Remove from refrigerator and stir with a wooden spoon.
Strain coffee through two layers of cheese cloth over a large bowl or jug or use a nut-milk bag (that's what I use).
Add several ice cubes to a glass and pour 1 cup of iced coffee on top.
Add in milk, sugar or mixings of choice.
Store iced coffee in refrigerator for up to 2 weeks.
Like this recipe? Try these other drink recipes:
JOIN THE THM NEWSLETTER
Join 10,000+ members of the THM Community to get access to exclusive recipes, healthy lifestyle tips and behind-the-scenes news from our team!
Success! Now check your email to confirm your subscription.