Meal Prep your breakfast for the week with these healthy portable egg cups! Build this meal-in-one in advance and have breakfast on the go ready for every weekday morning. These breakfast egg cups are easily portable too!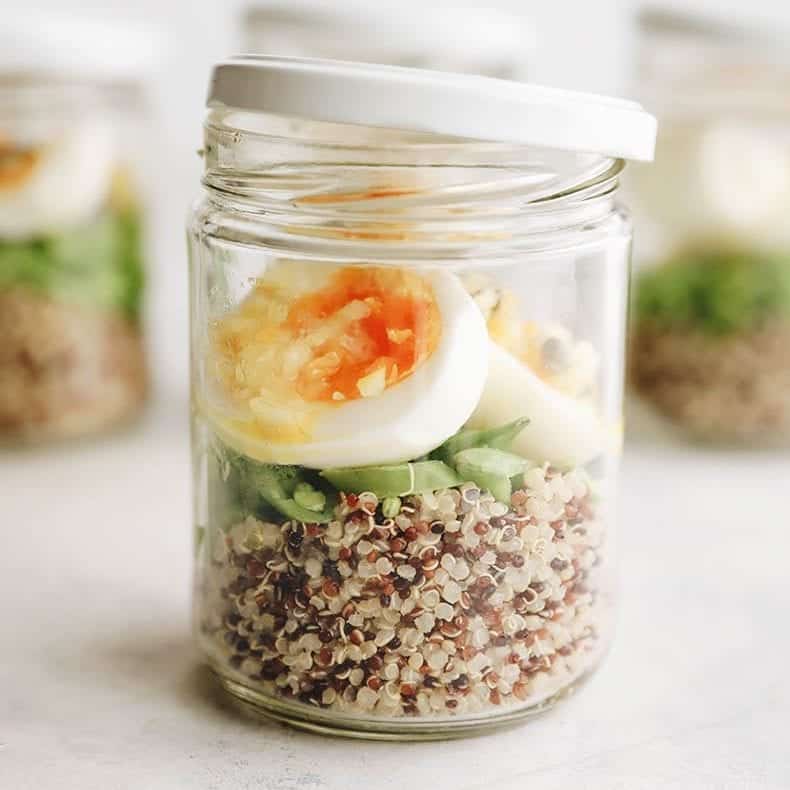 How cute are these little egg cups? I love pretty much anything in a jar so a portable egg breakfast in a jar has my heart. I have seen maaaany recipes for egg "muffins" but haven't seen any simple breakfasts like these on the internet and since this has been a go-to of mine for quite some time, I figured it was time to share the love. First off, what is an egg cup? In my opinion an egg cup offers a more well-rounded meal. Instead of just an egg, you can combine with some veggies and grains to pack a whole meal in one! It's filling and satisfying and most importantly, portable!
What You Need
eggs – you'll be soft-boiling the eggs. For easy peeling, I recommend using eggs that haven't just been bought. 
quinoa – any type of grain works but quinoa is a complete protein which means it has all essential amino acids. Love starting my day with a high protein meal to keep me full. 
sugar snap peas – I love adding fresh snap peas to this jar but any green works!
lemon caper sauce – a delicious mix of lemon, capers, olive oil and salt. The star of the show!
How to Soft-Boil Eggs
Timing is everything when it comes to soft-boiled eggs! Cook for too long and the egg will be hard boiled… which isn't the worst thing in the world so don't stress if it takes you a few tries to nail this!
On the stovetop, bring water to a boil in a saucepan then lower it to a simmer. Add your eggs to the water and start your timer. Simmer for 7 minutes for the perfect, "jammy" yolk. Simmer for less if you want your yolk more runny and more if you want a harder yolk. Immediately place your eggs in a bowl of ice water to prevent them from cooking further! Once they've cooled off, you can peel them and add them to your egg cups.
Customize these Breakfast Egg Cups
I like to think of this recipe as an easy base recipe for egg cups from which you can customized to make your own. Have leftover roasted vegetables? Throw them in. Have a different leftover dressing? 98% sure it will be delicious in this (I reserve the 2% for some weird peanut concoction dressing you've had sitting in the fridge for two months LOL). Want to use rice instead of quinoa? Go for it! The options to customize these breakfast egg cups are endless. Here are some combos I would try:
Add avocado
Swap quinoa for any other grain
Add any other vegetable or green
Add more protein – bacon anyone?!
Swap for a different dressing
Have fun experimenting!
Breakfast on the run? No Problem!
Here are a few other meal-prep breakfasts: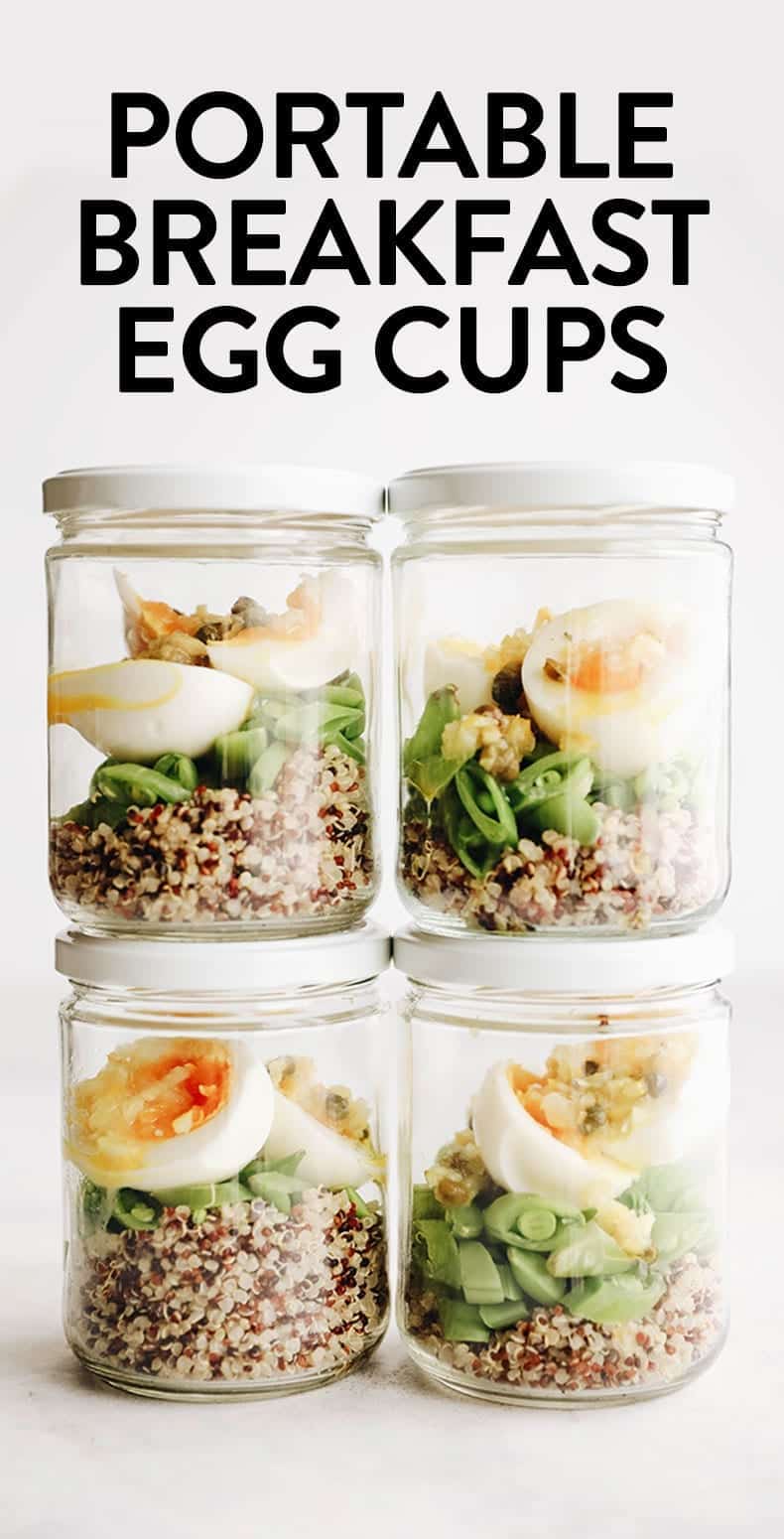 Healthy Portable Egg Cups
4

large eggs

1 ½ cup

cooked quinoa

2

large handfuls sugar snap peas
Lemon Caper Sauce
½

lemon, finely chopped skin, pith, flesh and all

1 tsp

capers

2 tbsp

olive oil

salt, to taste
Boil the eggs for 7 min for jammy eggs, longer if you like the yolks harder. Place the cooked eggs in a bowl of ice water to stop them cooking further. Peel the eggs and set them aside.

Slice the sugar snap peas and set aside.

In a small bowl lightly smash the capers with the back of the spoon. Add the chopped lemon, olive oil and a small pinch of salt. Remember, capers are already salty and you can always add more but you can't take it out once its in!

To assemble the jars, place ⅓ cup quinoa in the bottom of the jar. Next add ¼ cup sliced snap peas. Place one of the eggs, cut in half, on top and spoon a few spoonfuls of the sauce over everything. Store in the fridge and eat over the next 4-5 days.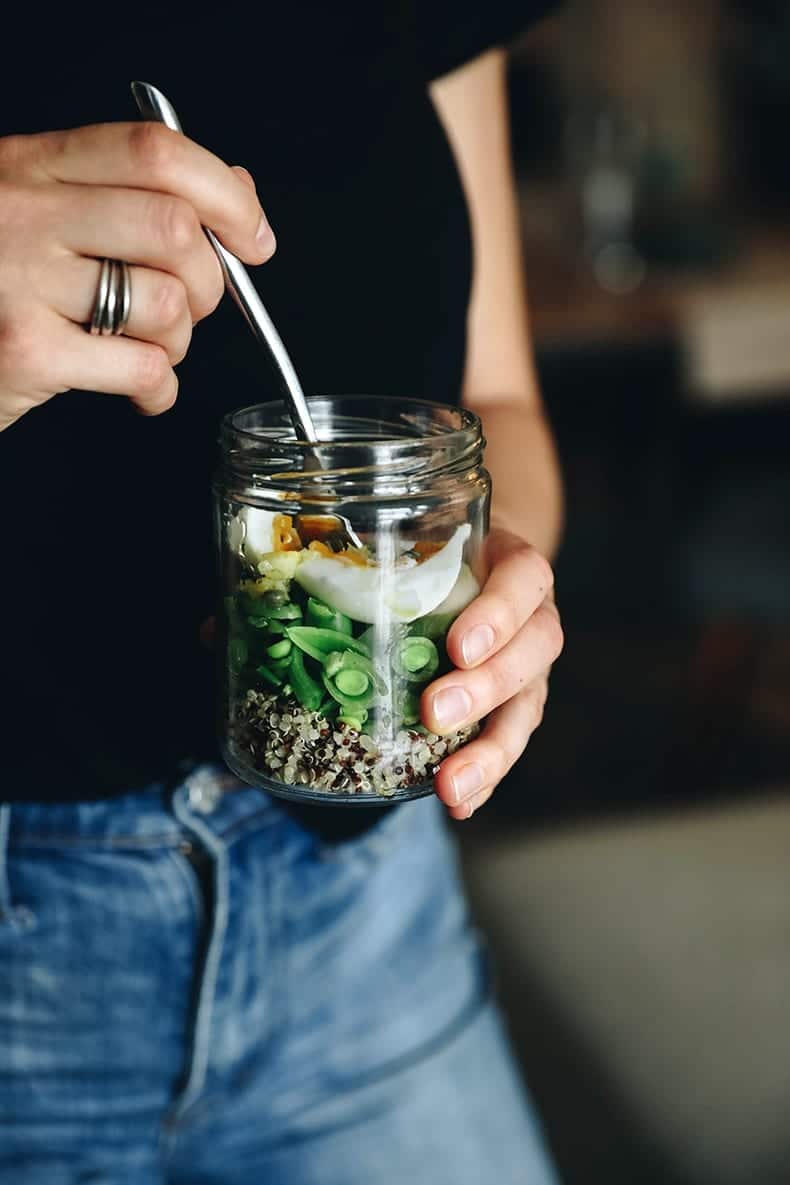 Like this recipe? Here are a few others you might enjoy:
JOIN THE THM NEWSLETTER
Join 20,000+ members of the THM Community to get access to exclusive recipes, healthy lifestyle tips and behind-the-scenes news from our team!
Success! Now check your email to confirm your subscription.