Orange Rosemary Scones
Start your day with these delicious and easy whole wheat orange rosemary scones. Made with freshly squeezed orange juice, flavorful fresh rosemary and whole grain whole wheat flour.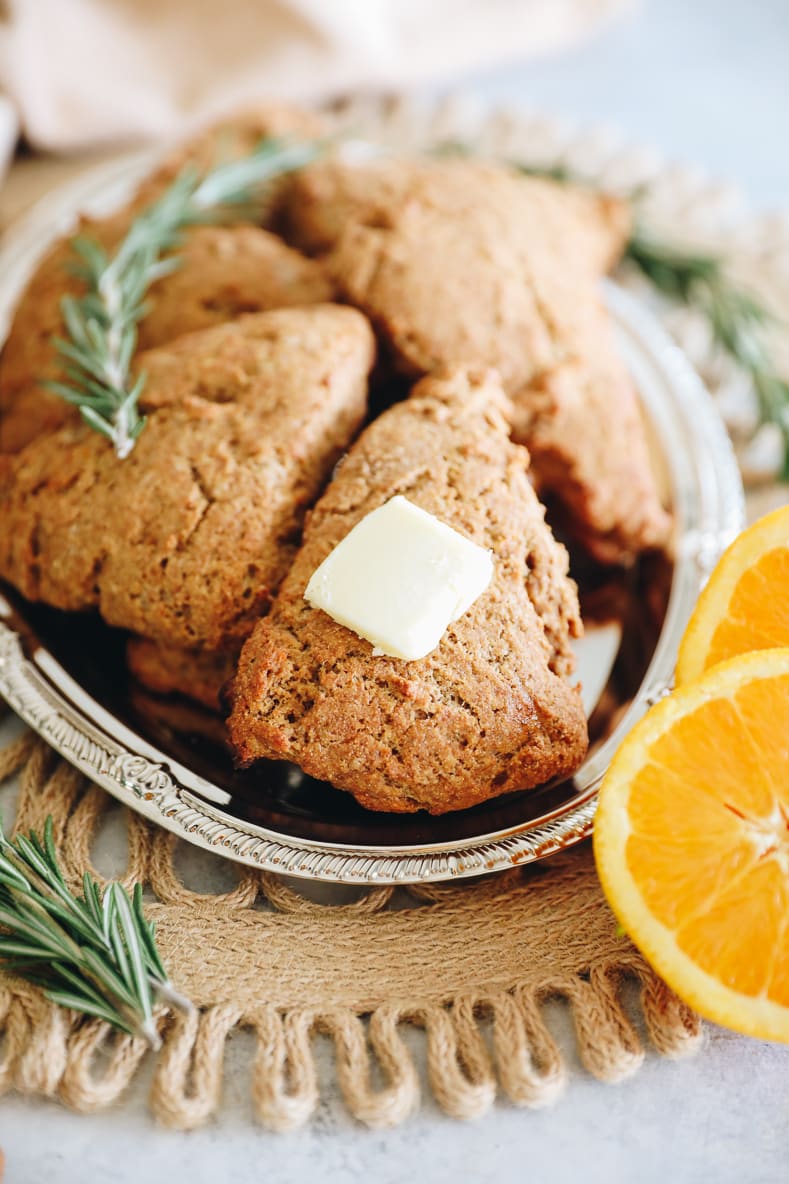 We're 5 months into our move to Minnesota and despite everything going on we are so so happy here. The snow has officially melted, the temperatures are warming and I'm getting excited to install our garden here. Because if there's anything I've missed about California, it's the fresh produce. Now hear me out, I feel so fortunate to have access to fresh food here in Minnesota. Period. However, living within 100 miles of where your food is grown is a true luxury that California offers and let me tell you, lettuce is better when it was grown within driving distance.
I know Minnesota will offer this in the summer and especially once our garden is in place but it probably won't ever be like California, and that's okay. I sighed a little when I paid $4 for rosemary at the grocery store when I used step outside my house and cut it fresh because it grew like weeds but truth be told, these orange rosemary scones taste just the same!
These whole wheat orange rosemary scones are delicious! I woke up one morning with orange and rosemary on my mind and the flavor combination ended up being too good not to share! The rosemary isn't super pungent but rather adds a nice undertone to the sweetness. If you're looking for a slightly sweet, slightly buttery addition to your brunch menu, this is the recipe for you!
Orange Rosemary Scone Ingredients
whole wheat flour
coconut palm sugar

– brown sugar works as well

orange juice and zest
fresh rosemary
baking powder

and

baking soda
sea salt
egg
butter

– make sure it's cold butter and not room temperature!

maple syrup
milk

– I used unsweetened almond milk but any milk will work

apple cider vinegar
How to Make Homemade Scones
STEP 1: Mix together whole wheat flour, coconut palm sugar, orange zest, baking powder, baking soda and salt. Set aside.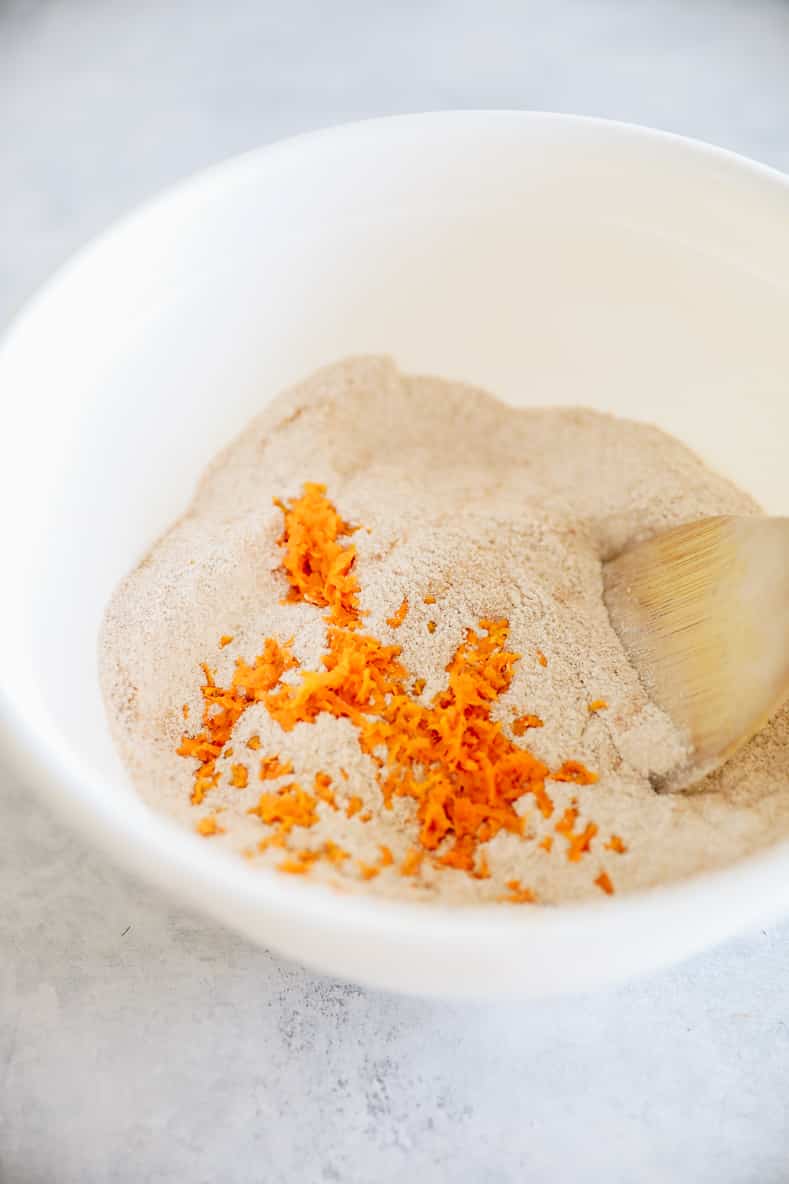 STEP 2: In a small pot add orange juice and fresh rosemary. Bring to a boil. Once mixture starts boiling lower heat to a simmer and cover for 10 minutes.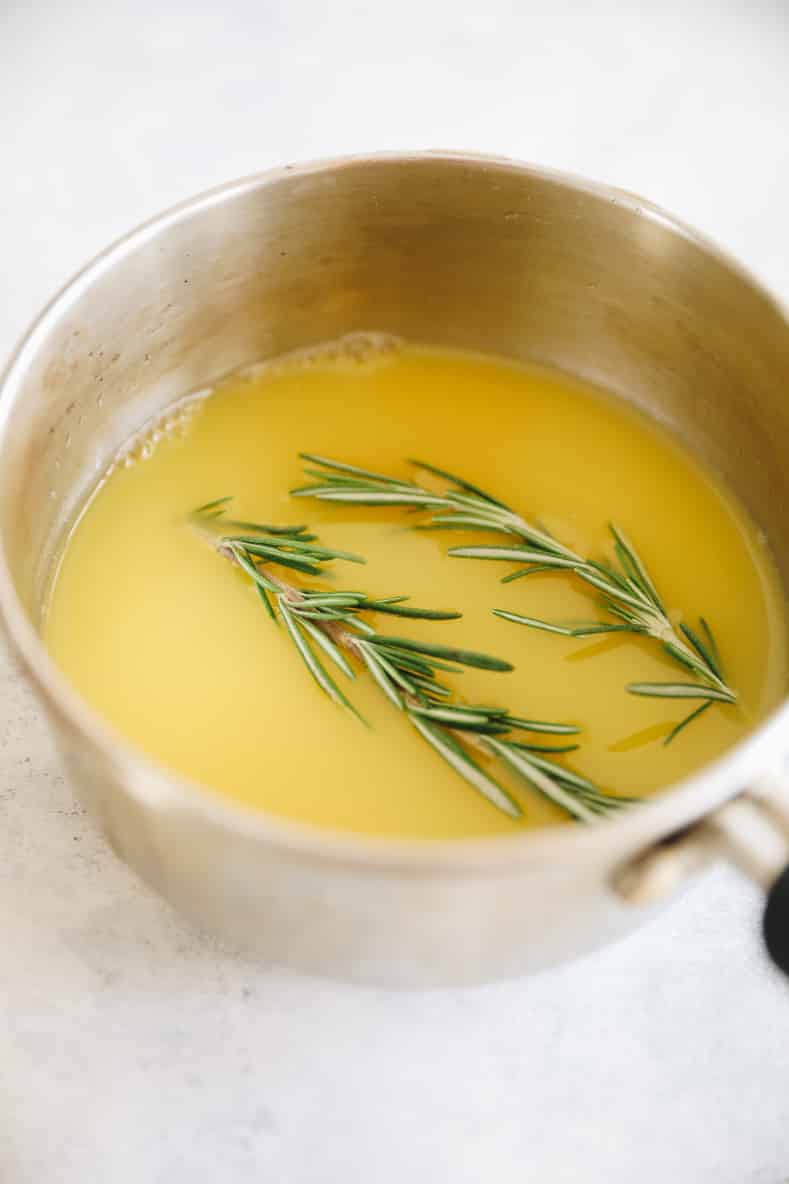 STEP 3: Turn off stove top and strain orange-rosemary mixture to remove sprigs. I used a thin-holed strainer but cheesecloth would also work. Let cool to room temperature.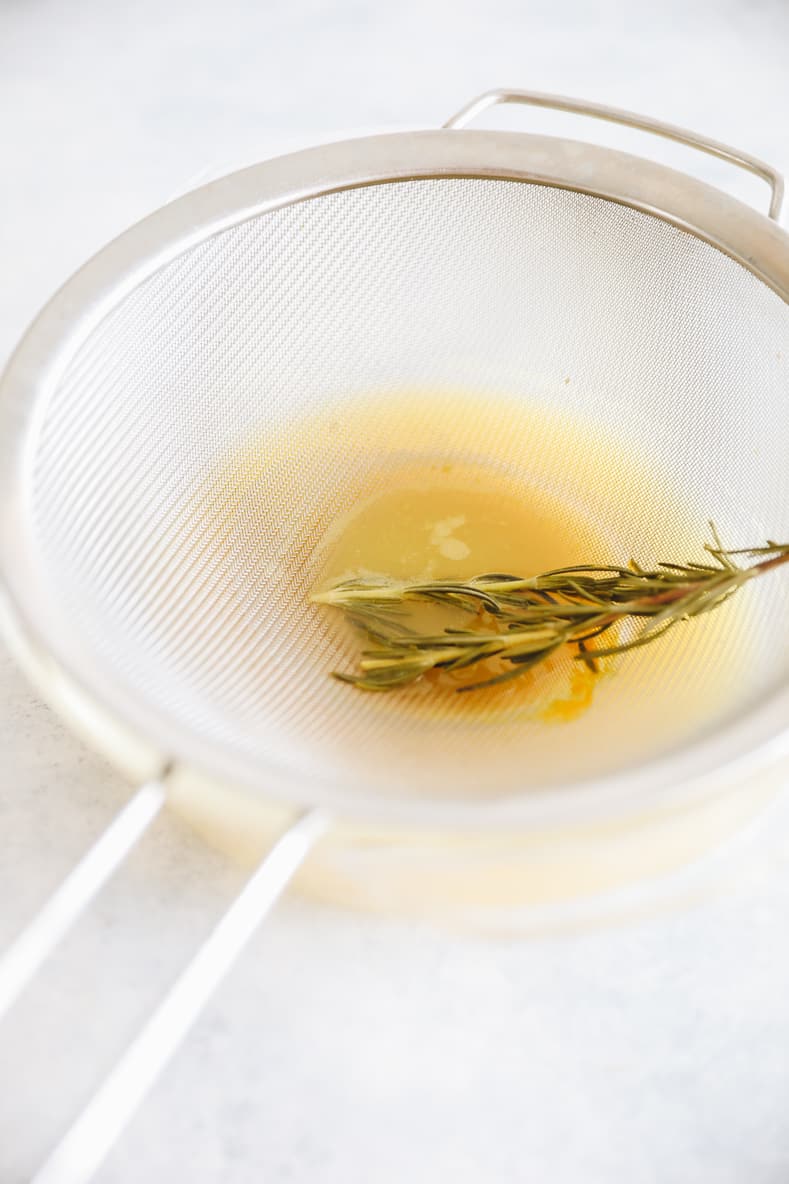 STEP 4: To the bowl with the orange-rosemary juice add maple syrup, milk and apple cider vinegar. Whisk in egg.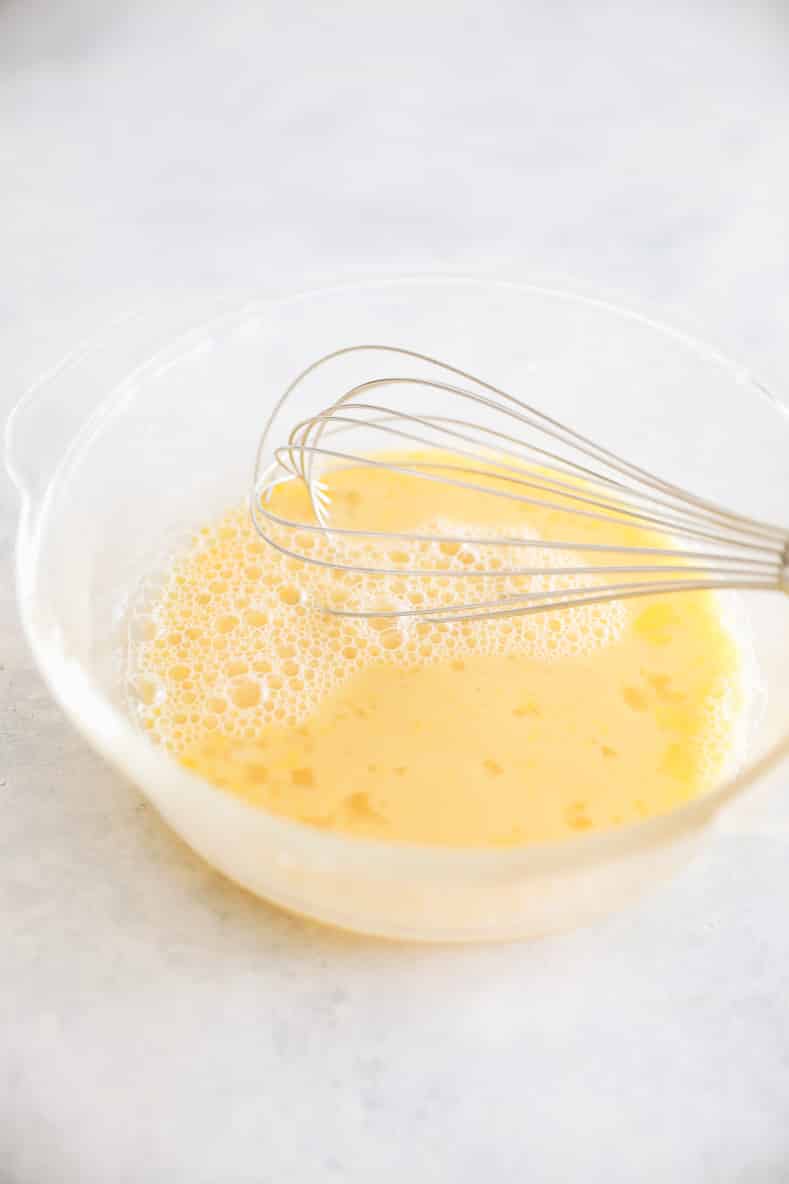 STEP 5: Preheat oven to 400 degrees F. Add cubed butter and mix into dry ingredients using hands (or a pastry cutter) until crumbly consistency is reached.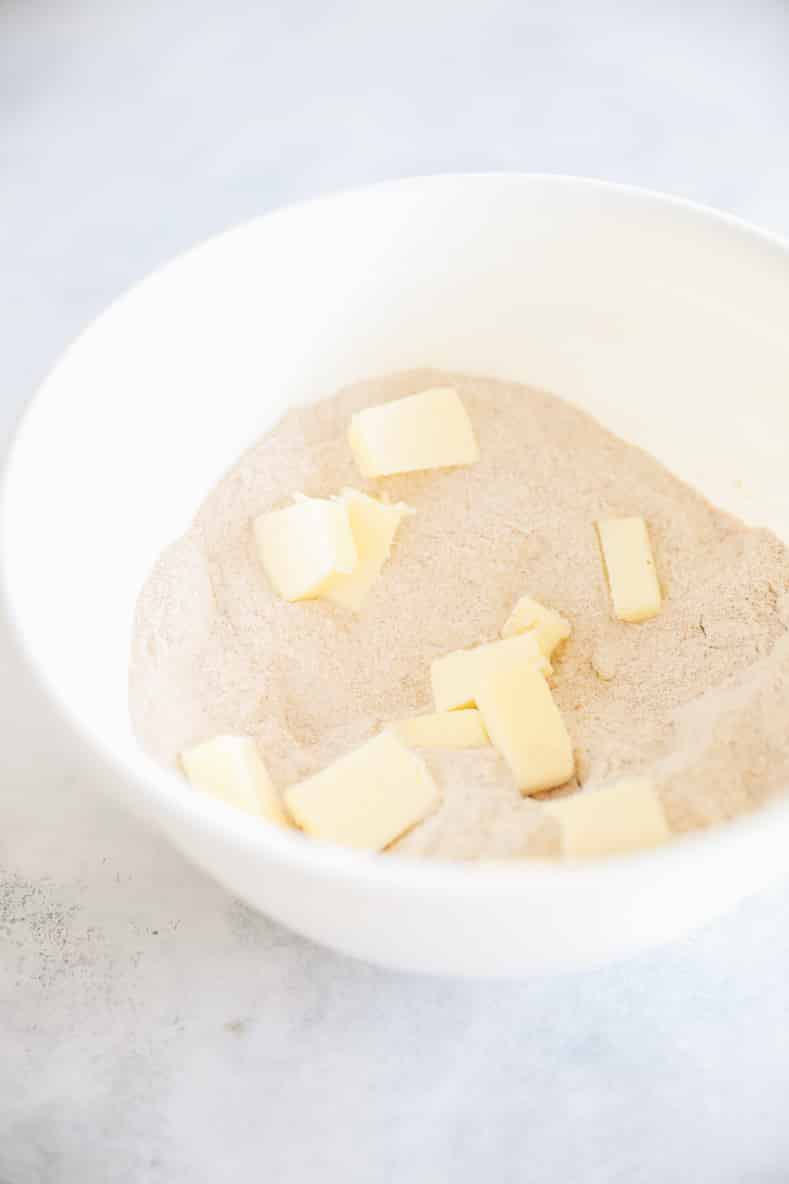 STEP 6: Add the wet mixture to the dry and stir to combine. Do not overmix.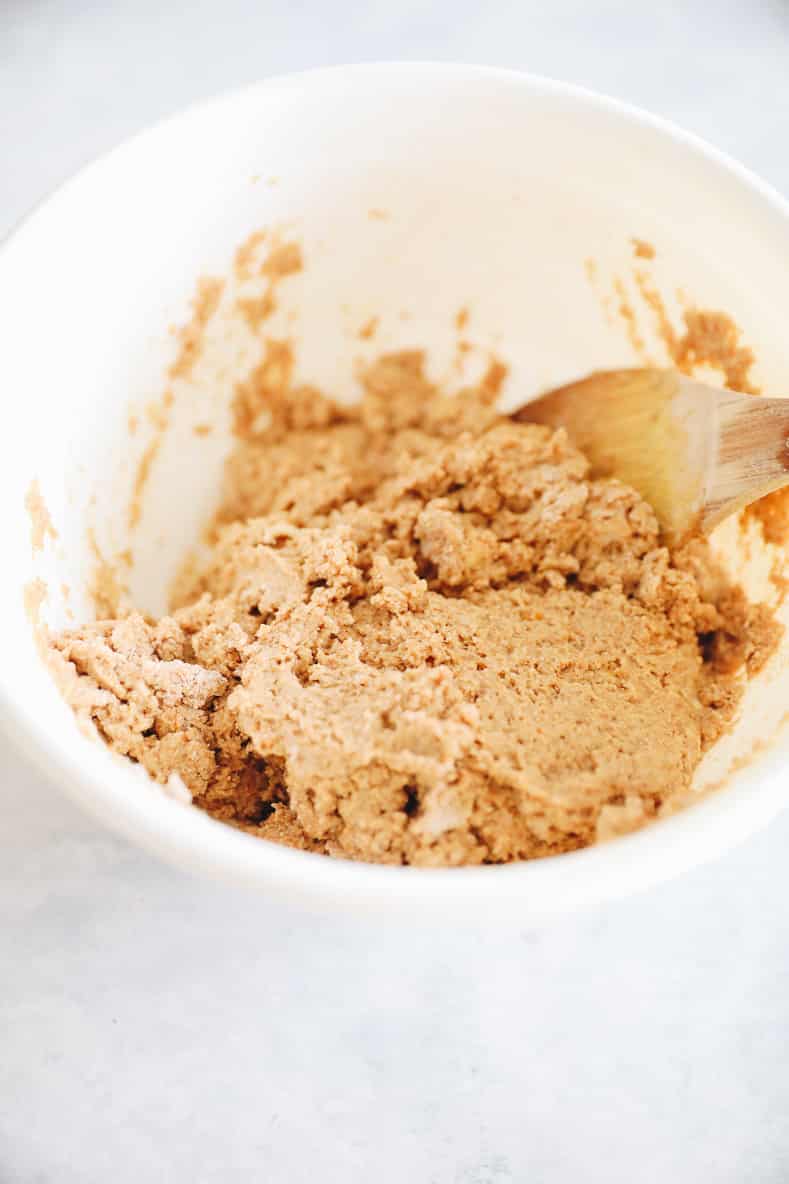 STEP 7: Form scone dough into a ball and place on a parchment (or silicone) lined baking sheet. Using hands press out into a large circle with the dough about 1.5 inches thick or about 8-9 inches wide.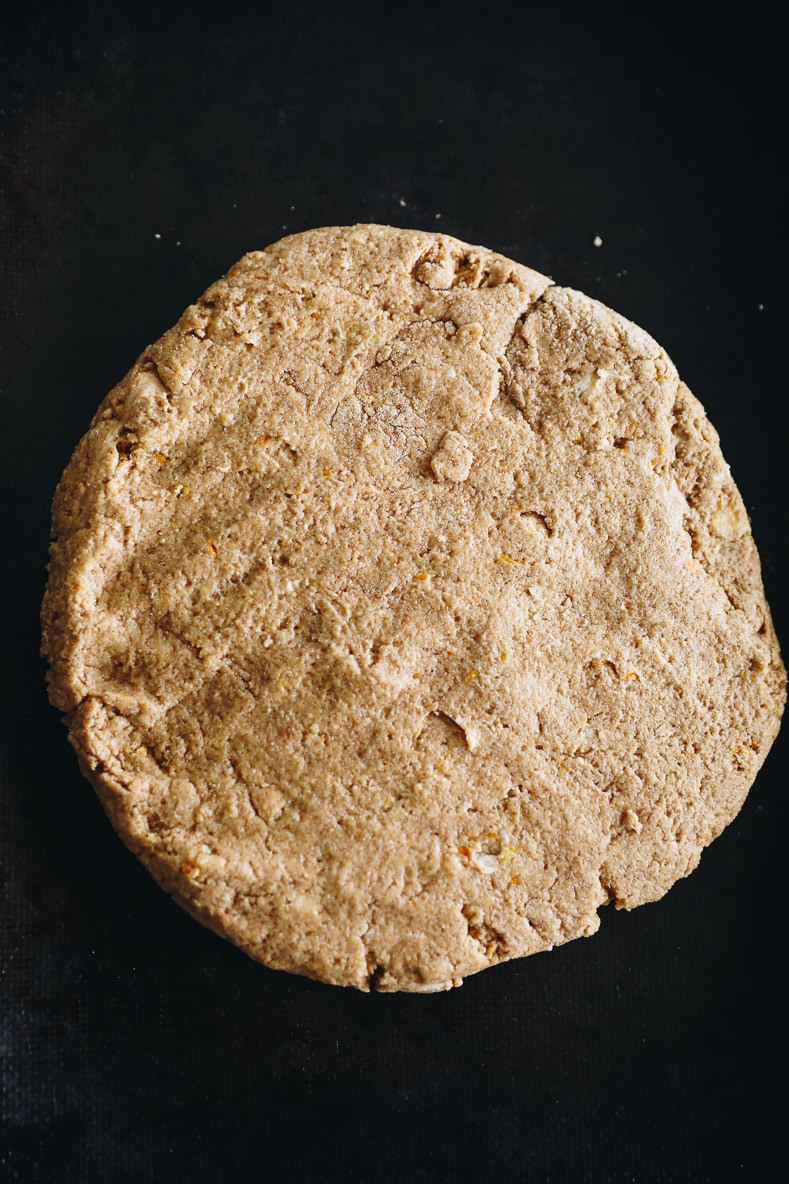 STEP 8: Slice dough into 8 pieces and separate on baking sheet – they may fall apart slightly, just piece back together with hands.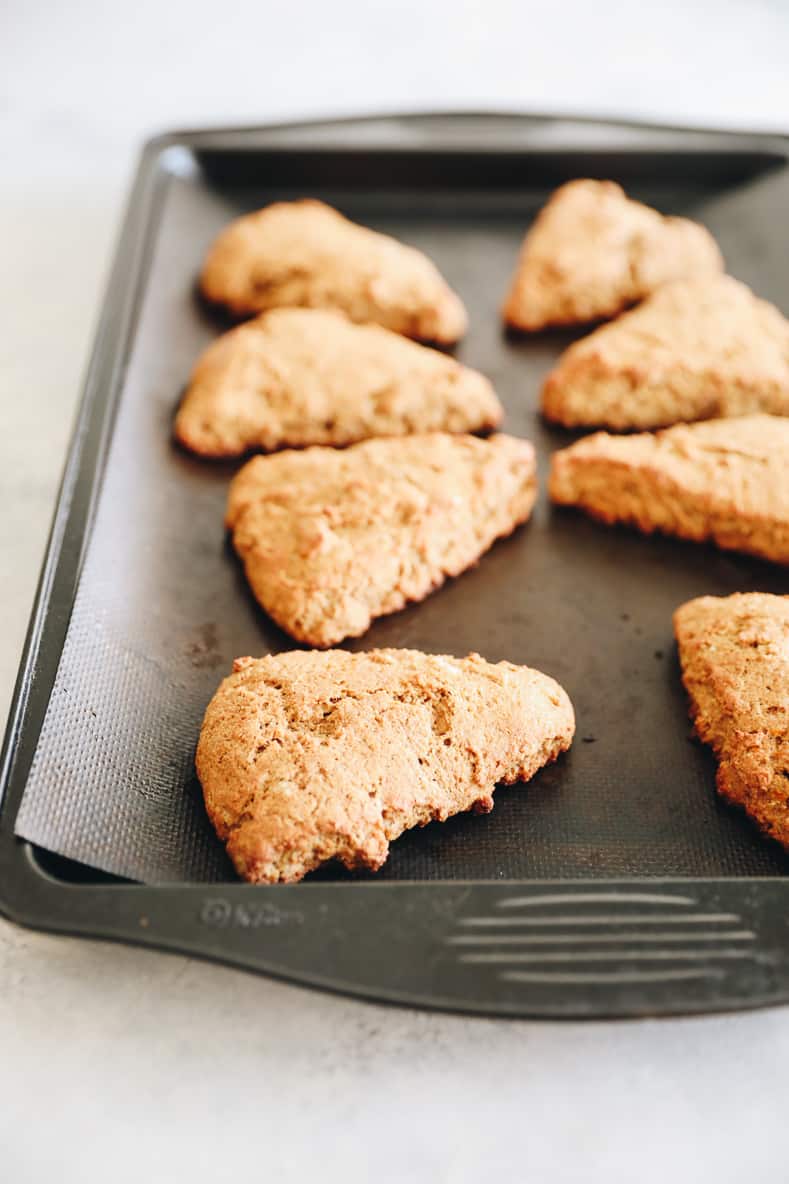 STEP 9: Bake in oven for 15-20 minutes or until scones are golden-brown around the edges. Serve immediately while still warm with butter, preserves or nut butter of choice.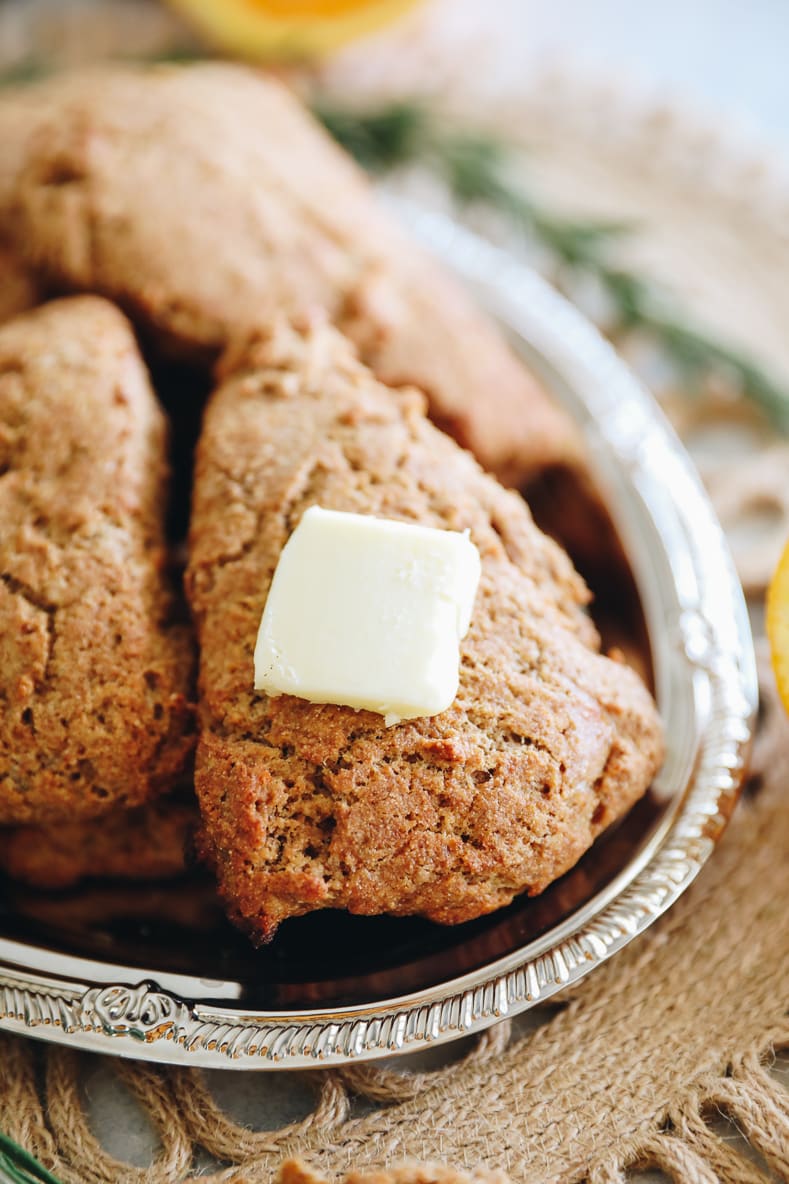 Troubleshooting Homemade Scones
Are your scones turning out flat? Make sure you're using cold butter! This is super important. You want the butter to melt once it's baking in the oven… not before. 
Are you scones too dense? You likely mixed the batter too much. Mix the wet and dry ingredients until just combined!
How to Serve Scones
These scones are delicious fresh out of the oven! Serve them while they're still warm with butter, preserves or a nut butter. 
How to Store Scones
Scones are awesome because they store super well! After allowing the scones to cool completely, store in an airtight container in the refrigerator for up to one week or in the freezer for up to one month. If you freeze your scones, let them come to room temperature before serving – and pop them in the oven or microwave to heat them up a bit for optimal eating pleasure!